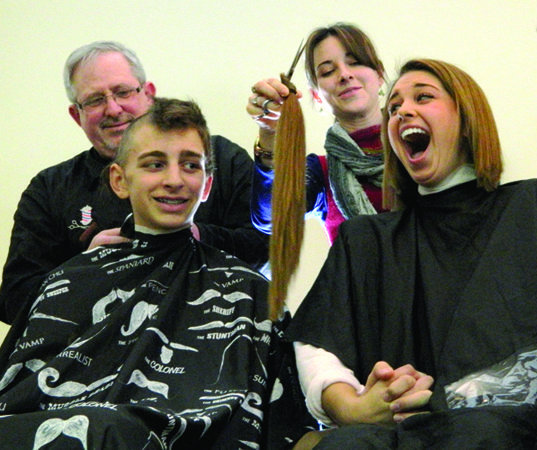 Stylist Lindsay Waltz shows teen Amara Kattrein a piece of hair she just cut in preparation for shaving all 23 inches of Kattrein's hair at the March 16 St. Baldrick's fundraiser in Cazenovia. Amara and her brother Hans, left, held hands as they got shaved.
Stories this photo appears in:

After Cazenovia High School senior Amara Kattrein shaved all 23 inches of her hair off last Sunday, March 16, during the St. Baldrick's fundraising event in Cazenovia, James Henry, father of 6-year-old Nathaniel Henry, a Burton Street Elementary School student who was diagnosed with Acute Lymphoblastic Leukemia in March 2012, walked up to Amara, said, "I just want to thank you so much," and gave her a hug. And Amara teared up. This one just one of the myriad touching moments that occurred last Sunday, March 16, at the Cazenovia American Legion for the St. Baldrick's Foundation fundraising event, during which hundreds of people showed up, more than 100 got their heads shaved and more than $40,000 was raised to help increase childhood cancer research and awareness.