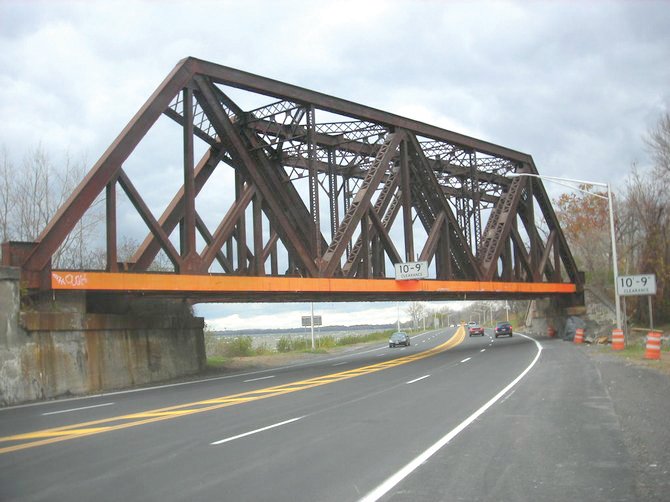 On March 4, a tractor-trailer hit the CSX railroad bridge over Onondaga Lake Parkway, despite an over-height vehicle detection system meant to deter such accidents.
Stories this photo appears in:

It's become a familiar sight to those who regularly travel Onondaga Lake Parkway: a tractor-trailer wedged under the 10'9" CSX railroad bridge over Route 370 between Route 81 and the village of Liverpool. On Tuesday, March 4, a 13'9" truck driven by An B. Zhang, 40, of San Jose, struck the underside of the bridge, despite numerous signs alerting drivers to the low clearance, as well as a one-of-a-kind detection system installed in 2011 that sent out alarms alerting him to turn around. Zhang, who speaks Mandarin, said he didn't understand the signs due to the language barrier. This isn't the first accident since the system was installed. Another tractor-trailer hit the bridge in December of 2013. The driver, 33 year-old Waleed Sleit of Chicago, said he didn't see the numerous signs regarding the bridge's height.