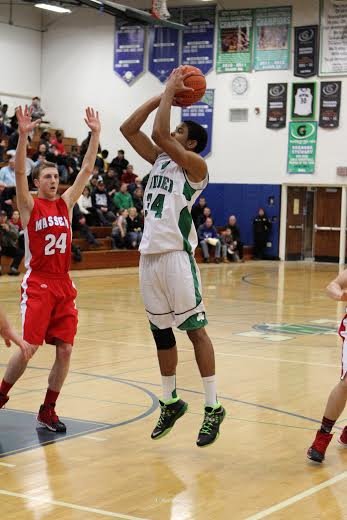 Bishop Ludden senior forward Dan Kaigler (34) tries a fallaway jump shot in Wednesday night's Class A regional opener against Massena. Kaigler had 19 points and 12 rebounds as the Gaelic Knights cruised past the Red Raiders 71-50.
Stories this photo appears in:

Gaelic Knights earn rematch with Scotia-Glenville Saturday
Bishop Ludden's boys basketball team found its return to the state Class A playoffs to be a smooth one, at least at the outset. The Gaelic Knights put four players in double figures as it handled Massena, 71-50, Wednesday night at Cicero-North Syracuse High School to set up a highly-anticipated regional final against unbeaten, state no. 1-ranked Scotia-Glenville this Saturday at Hudson Valley Community College in Troy.