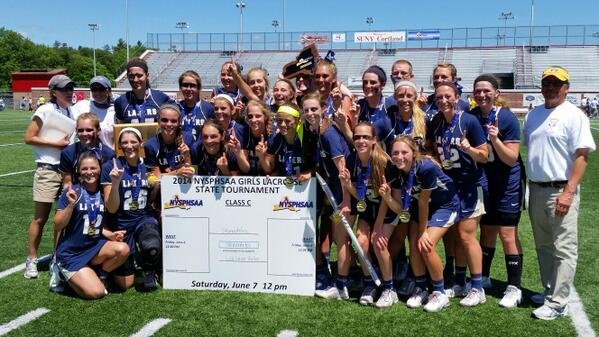 The Skaneateles girls lacrosse team won its first state Class C championship since 2006, and its third in the program's history, by defeating Cold Spring Harbor 12-11 in the state championship game Saturday at SUNY-Cortland, with senior Molly Wood scoring the game-winning goal with just two seconds left.
Stories this photo appears in:

Wood goal with two seconds left beats Cold Spring Harbor
Molly Wood was kept in check all game long, but broke through when it mattered the most - and delivered the shot that gave the Skaneateles girls lacrosse team its third state Class C championship in program history. Wood's goal with just two seconds to play in regulation, achieved off a mad scramble in front of the net, gave the Lakers a 12-11 victory over Cold Spring Harbor in Saturday's state final at SUNY-Cortland.