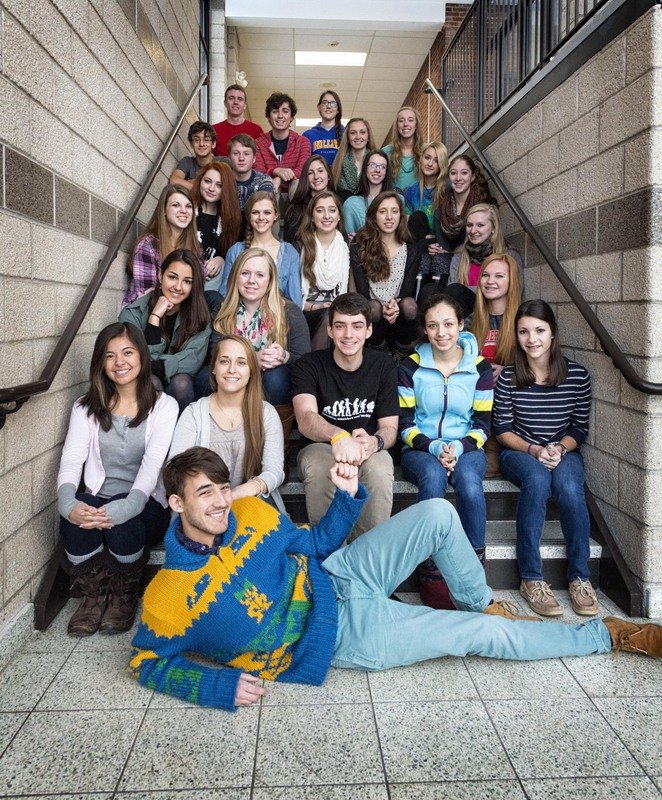 Skaneateles students who received awards in the 2014 CNY Scholastic Art Awards. Top row, from left: Jamie Rooney, Matthew Payne, Malorie Olin, Madeline Adams and Natalie Roche. Second row from top: Lucas Wingfield, Max Messie, Eloise Smith, Taylor Woodruff, Shannon Iles, Jessica Pirro. Nextrow: Jessica Jones, Chloe Strang, Ellie Sherman, Finan Malcolm, Morel Malcolm and Lizzy Smith. Third row from top: Mia Mason, Laura Wolford and Alaina Davis. Fourth row from top: Phoebe Glowacki, Jessica Pileski, Patrick Biver, Julianna Prendergast and Maryn Kerr. Front: Nick Smolenski. Not pictured: Shannon OBrien, Ryan Terhune, Casey Van Slyke, and Tyler Mack.
Stories this photo appears in:

Thirty Skaneateles High School students and four middle school students were recently recognized for their artwork with the 2014 CNY Scholastic Art Awards. Students were awarded a Gold Key, Silver Key or honorable mention in the highly competitive awards program.