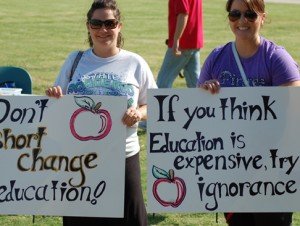 Advocates for state public education financing reform demonstrate last summer. In order to encourage more people to become educated on the topic and to advocate for similar reforms, the Central New York School Boards Association, in conjunction with several area BOCES, will hold two forums on the topic next week.
Stories this photo appears in:

School districts in Central New York and beyond are in trouble, and it's time we do something about it. That's the message behind a pair of forums to be held Feb. 4 and 5 in Auburn and North Syracuse by the Central New York School Boards Association (CNY SBA) in conjunction with the Onondaga-Cortland-Madison, Cayuga-Onondaga, Tompkins-Seneca-Tioga and Oswego County BOCES. The forums, which will take place at Auburn West Middle School and North Syracuse Junior High School, respectively, will focus on the major factors causing those financial issues and how school administrators, teachers and community members can make a difference.