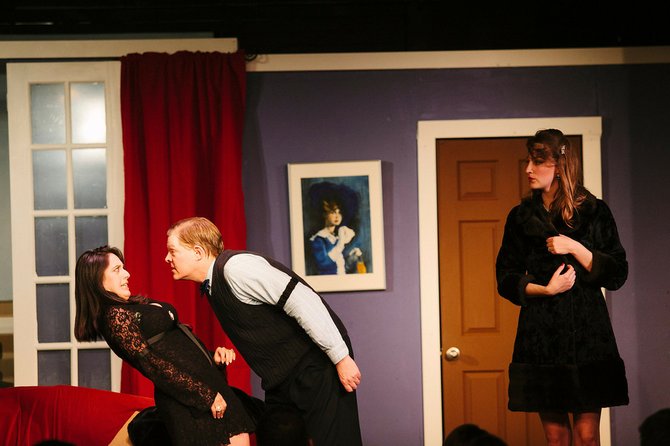 Portraying a harried fur-coat designer, actor Alan Stillman dresses down Mrs. Lawson, a philandering wife who's shagging her boss, the husband of a strip-tease dancer, played by Meghan Jo Clary (right) in 'Not Now, Darling' which runs through Jan. 25 at CNY Playhouse, at DeWitt's ShoppingTown Mall.
Stories this photo appears in:

Unfaithful husbands hide unclothed mistresses in closets in CNY Playhouse's 'Not Now, Darling'
CNY Playhouse prides itself on presenting "something for everyone." The troupe, based at ShoppingTown Mall produces serious dramas such as "Streetcar Named Desire" and "Death of a Salesman," silly musicals such as "Mrs. Bob Cratchit's Wild Christmas Binge" and "Spamalot," and improvisational comedy shows such as the Syracuse Improv Collective "Bank Show" set for Jan. 31.