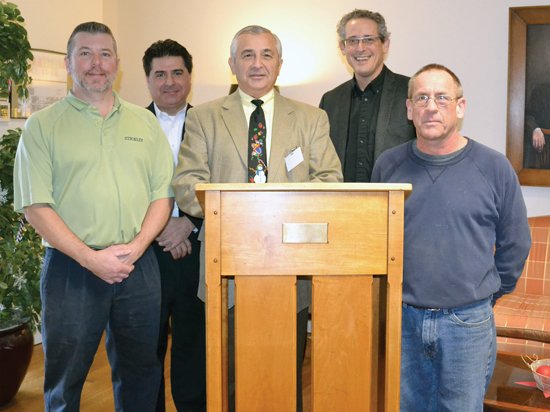 From left: Stickley repair technician supervisor Mark Miner, company President Edward Audi, Superintendent Robert Dubik, corporate historian Mike Danial and repair technician Doug Manning.
Stories this photo appears in:

No one knows for sure how long it's been here. But, chances are, it was from almost the very beginning: a simple wooden podium at which generations of Cazenovia High School teachers and students probably delivered speeches, gave pop quizzes, engaged in debates and read aloud. The maple podium, it turns out, was crafted in the original L. & J.G. Stickley factory on Burnet Avenue in Syracuse — the same craftsman workshops in which the company's first signature mission furniture was built in 1900.