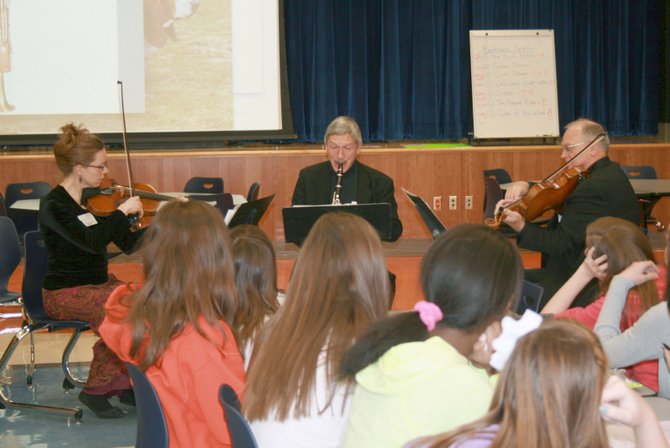 The Liverpool Middle Orchestra has spent the past few weeks composing an ode to nature. The musical composition will make its debut during Symphoria's next Young Person's concert, "Sounds of Nature," on March 1. Pictured, from left, are Symphoria members Sonya Williams, Allan Kolsky and Kit Dodd, who stopped by LMS to talk with the students about how to enhance their musical composition.
Stories this photo appears in:

Over the last few weeks, members of the Liverpool Middle Orchestra have been hard at work composing an ode to nature. As part of Symphoria's educational outreach program, the seventh and eighth grade musicians from LMS were asked to think about the sounds they hear in nature and write an eight-measure phrase using the New York State School Music Association's Level 1 and 2 sight-reading guidelines. Once the phrases were compiled, the students sight-read each one and selected two themes — one written by LMS seventh-grader Zoyie Baldwin and the other by eighth-grader Catrina Tulowiecki — to use as the foundation for their own musical composition.