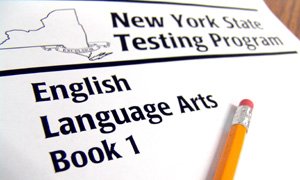 Students and teachers in New York will have five more years to adjust to the Common Core standards, as the state's Board of Regents has voted to delay full implementation of graduation requirements until the Class of 2022.
Stories this photo appears in:

The New York State Board of Regents has approved a plan to delay the full implementation of the state's Common Core graduation requirements until the Class of 2022 — current fourth-graders — instead of the Class of 2017 — current ninth-graders — as had been originally intended. The shift means that those students currently in fourth grade across the state will have to take and pass five Common Core-aligned exams in order to graduate. Students now in ninth grade will have to take five Common Core exams, but they won't have to meet what the state calls "college- and career-ready standards" in order to graduate; they'll just have to pass the tests at a level similar to getting a 65 on current Regents exams.