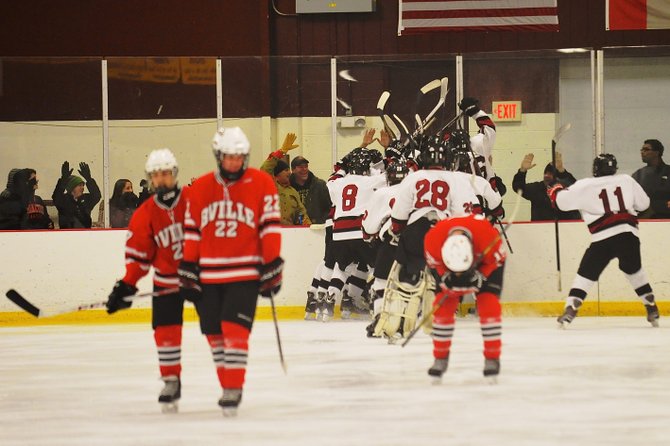 Baldwinsvile ice hockey players skate off the ice as the Syracuse Cougars celebrate Collin Thompson's goal in the third overtime period that beat the Bees 2-1 in last Thursday's opening round of the Section III Division I playoffs.
Stories this photo appears in:

Syracuse tops B'ville in 2-1 playoff marathon
Baldwinsville ice hockey goaltender Nick Harper had some amazing saves during the first 62-plus minutes of the Bees marathon Section III Division I quarterfinal against the Syracuse Cougars Thursday night at Meachem Rink. But with six and a half minutes left in the third overtime, the puck slipped off Harper's left side after a shot, and Syracuse's Collin Thompson had just enough space to squeeze it past him for the decisive goal, leaving B'ville on the wrong end of a 2-1 defeat.