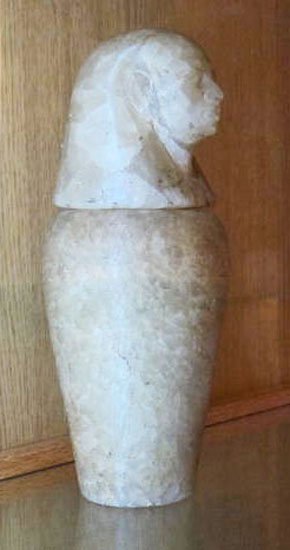 Canopic jars were special containers crafted in stone, wood or ceramic used to hold the four main organs of a body that were removed during the mummification process. Each jar had the head of a different god, known as the four 'sons of Horus': Qebhsenuef, with the head of a falcon, who looked after the intestines; Duamutef, with the head of a jackal, who looked after the stomach; Hapy, with the head of a baboon, who looked after the lungs; and Imsety, with a human head, who looked after the liver.
Stories this photo appears in:

Canopic jar now resides in Hen's mummy case
A new item has been added to the Cazenovia Public Library Museum's Egypt Gallery collection, that, along with a mummified falcon acquired five years ago, adds to the museum's interpretation of funerary rites of ancient Egypt. The completely intact alabaster canopic jar — once used to hold mummified internal organs — now sits inside the museum's mummy case, overlooking Hen, a 2,000-year-old mummy, and directly opposite the mummified falcon representing Horus, the god of the sun, war and protection.