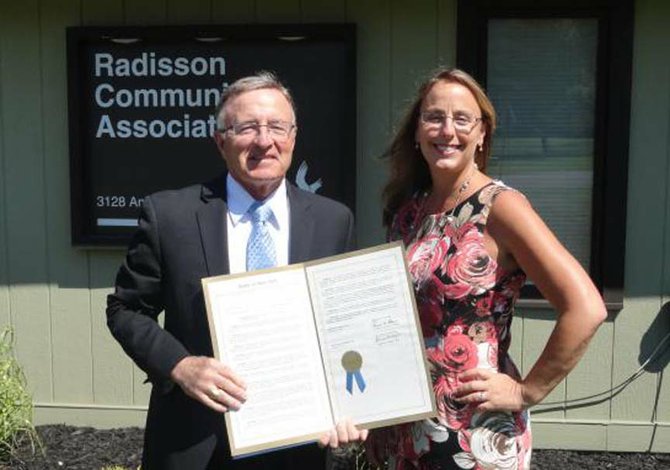 A State of New York Legislative Resolution, sponsored jointly by Senator DeFrancisco and Assemblyman Barclay, recognizing the 40th Anniversary of the Radisson Community Association and a Resolution from the Onondaga County Legislature, sponsored by Legislator Brian May, honoring the Radisson Community for its 40th Anniversary.

Stories this photo appears in:

The Radisson Community Association held its 40th Founder's Day celebration on Aug 2. Many residents came out to enjoy the festivities. There was plenty to do for all ages including face painting, Mela's Italian Ice cart, Edges Photography's Photo Booth, Tim Horton's Coffee Cruiser, the Smokehouse-Public Education Trailer, Pierre Esprit Radisson (a living history character), the Sheriff's Department Children's Fingerprinting and Safety ID's, Letizia and the Z-Band. Pyrotecnico fireworks provided a magnificent 20-minute display of fireworks to end the evening with many cheers from the spectators.