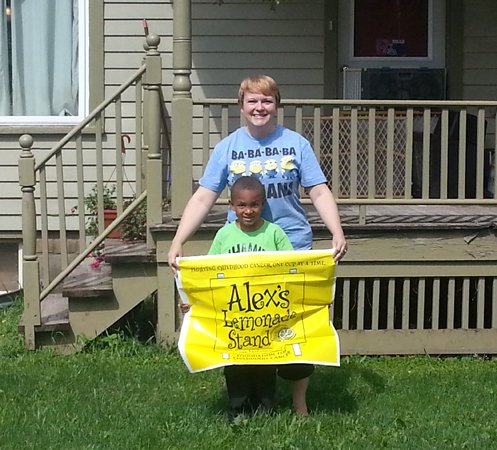 Jeremiah and Brandy Rutkowski hold a banner for the Alex's Lemonade Stand Foundation up in front of 12 Mill St. in Morrisville, the location of the lemonade stand they plan to offer from 11 a.m. to 3 p.m. this Saturday, Aug. 16, in an effort to raise money for childhood cancer research.
Stories this photo appears in:

Five-year-old Morrisville resident Jeremiah Rutkowski was in the grocery store recently when he saw a little girl with no hair. Wondering why she decided to be hairless, he asked his mother, Brandy Rutkowski, about it. Brandy explained that the girl probably had cancer and that the medicine she has to take for the cancer makes her body weak and her hair fall out. When Jeremiah heard this, he wanted to help. The Rutkowskis decided to open a lemonade stand at their house on Route 20 in Morrisville this Saturday, Aug 16, in hopes that people who go to the Madison Bouckville Antique Show will stop by for a cup of lemonade and a snack of zucchini bread and/or lemon cupcake, and help Jeremiah in his quest to raise $300 for childhood cancer research.