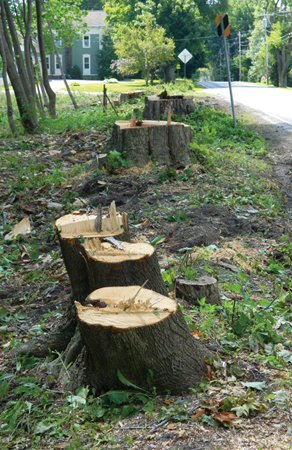 Madison County Highway Department crews strip cut a swath of about three dozen trees on East Lake Road last week, citing drainage and public safety issues.
Stories this photo appears in:
Many Cazenovia residents were alarmed last week when Madison County Highway Department crews showed up on East Lake Road in front of Owera Vineyards and started strip-cutting trees of all sizes along the roadside. Some people were concerned at the loss of vegetation done with no public notification and no public explanation; East Lake Road neighbors feared that their controversy with Owera Vineyards had taken a new twist by the winery receiving special treatment by having its private/business viewshed improved using taxpayer dollars.