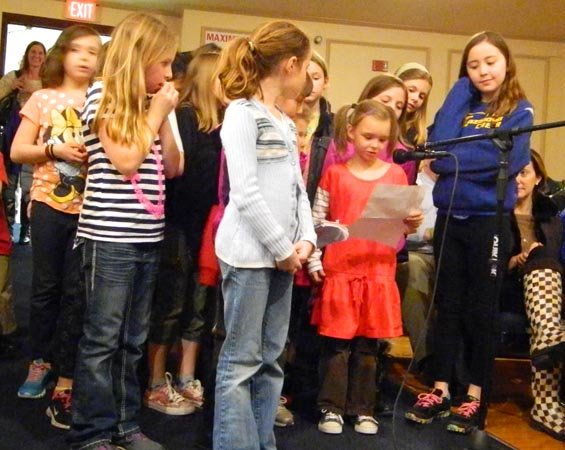 Third grade student Faith Widrick, middle red dress, surrounded and supported by friends and classmates, asked the board not to cut any elementary school teachers. "We are here because we want to stand up for our rights for a good education. We think that you should not take any more teachers away," she read from a prepared statement. "The more teachers you take away means that the classroom will be chaotic and harder for us to learn. We need our teachers so that we can all have a chance to learn the most we can. We do not want any of our teachers to go. We need them and love them all."

Stories this photo appears in:

With the passage of the state budget last week and final state aid to school districts now known, the Cazenovia school district budget received $200,000 less in aid than it expected. This fact, combined with the limited revenues allowed to the district through local taxes due to the state tax levy cap mandate and the dwindling amount of district fund balance reserves available to plug budget gaps, means that the 2014-15 district budget will reduce district staff by 9.4 positions (full-time equivalent positions) rather than the six previously planned.