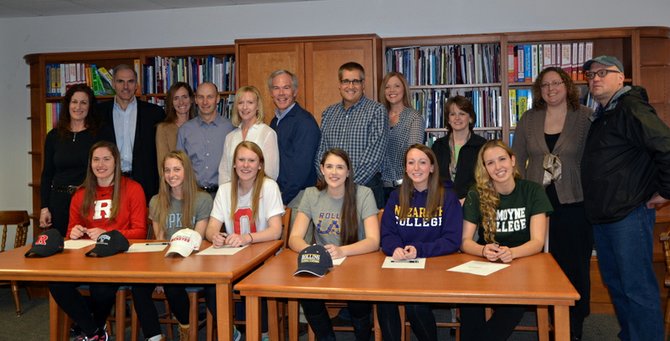 Skaneateles athletes, pictured with their parents, after signing letters of intent to play at the collegiate level at an event held at the high school on Friday. From left: Alana Navaroli, Rutgers University for lacrosse; Casey Van Slyke, Johns Hopkins University for lacrosse; Molly Wood, Ohio State University for lacrosse; Malorie Olin, Rollins College for lacrosse; Kristen Pille, Nazareth College for lacrosse and Joanna Dobrovosky, LeMoyne College for basketball. Not pictured is Nicole Beatson, who will play lacrosse in college, but has yet to decide where.
Stories this photo appears in:

Lakers knock off defending state Class B champs in 18-6 romp
What was already a memorable weekend for the Skaneateles girls lacrosse program was made more so after it won big in a showdown of local powerhouses. On Friday afternoon, six different seniors signed their college letters on intent. Then, on Saturday night, Skaneateles took to the field at Hyatt Stadium to face reigning state Class B champion Christian Brothers Academy.