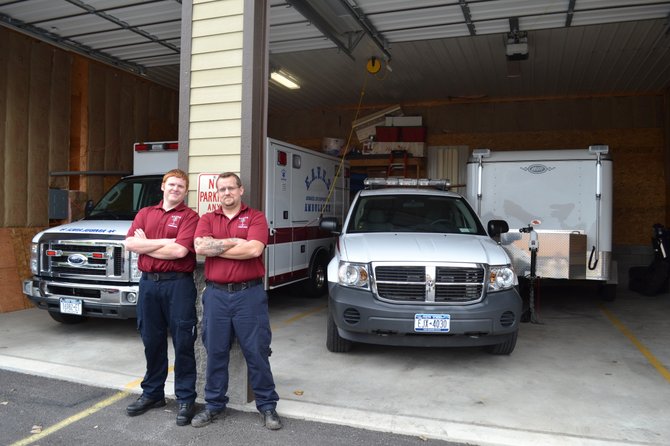 Matthew Karasek, an EMT, and DJ Potter, a paramedic, stand in front of the second EAVES garage, built by EAVES personnel to accommodate the vehicles that can't fit in the first garage. The squad car has to be pulled in at an angle to so that the car and rehab team trailer can fit in one space.
Stories this photo appears in:

This year, East Area Volunteer Emergency Services, Inc. (EAVES) is celebrating its 40th year of service to the village of East Syracuse and the northern part of the town of DeWitt. And a lot in the industry has changed since the first EMTs and paramedics began rolling out the stretchers in 1973 at EAVES' current headquarters, located near Carrier Circle. Which is why the men and women who work and volunteer there are finding themselves in a tough spot – they simply do not have enough space to store equipment, accommodate personnel overnight and perform some of their operations.