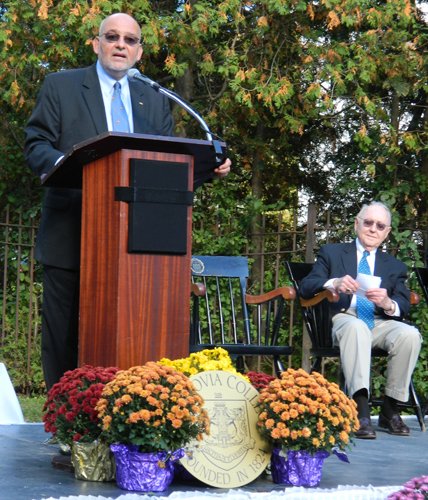 Cazenovia College President Mark Tierno., left, officially named the new Jephson Campus at a ceremony on Sept. 28. Jephson Education Trusts Trustee Bob Taisey, right, thanked the college for the recognition.
Stories this photo appears in:

More than 100 people showed up last Saturday, Sept. 28, for the official naming ceremony of Cazenovia College's new "Jephson Campus" at 10 Albany St. The event was held in honor and recognition of the recent $1 million commitment from the Jephson Educational Trusts to the college as part of the college's ongoing, multi-million-dollar campus improvement campaign. The Trusts' donation will go toward the planned refurbishment and expansion of the college's studio-arts facilities on the site previously known as South Campus.