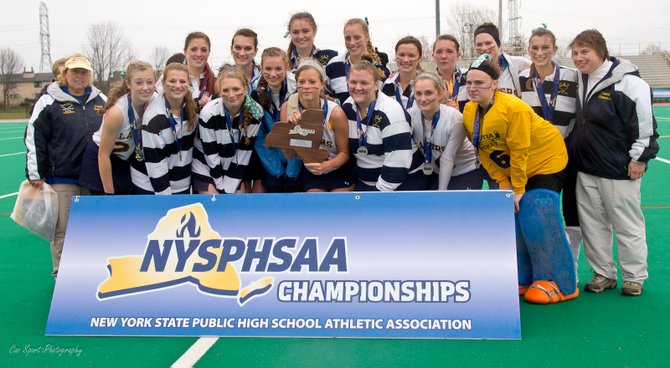 Cazenovia's field hockey team with the second-place championship plaque after Sunday's state Class C championship game at Cicero-North Syracuse's Bragman Stadium. The Lakers fell to Pierson/Bridgehampton 1-0 in double overtime, falling just short of a third state title in four years.
Stories this photo appears in:

Lakers defeated, 1-0, by Pierson/Bridgehampton
Three years ago, the Cazenovia field hockey team broke through and won the school's first-ever state team championship in overtime over Pierson/Bridgehampton. Those same two teams met again Sunday afternoon at Cicero-North Syracuse's Bragman Stadium with the same stakes, and again it went to overtime - but this time the Whalers prevailed in a 1-0 decision.