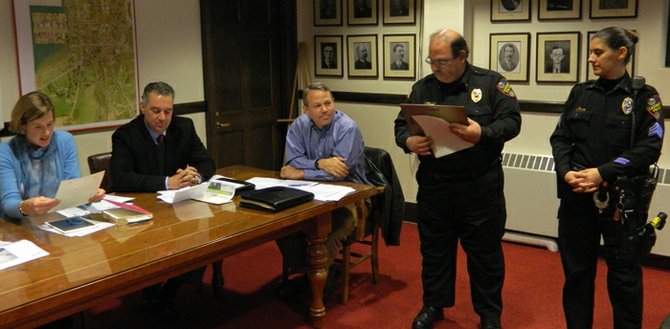 Cazenovia Police Chief Michael Hayes, second from right, awards Sgt. Karen Zaleski, far right, a letter of citation during the Nov. 4 village board meeting. Village Trustee and Police Commissioner Amy Mann, far left, reads the citation out loud while trustees Jim Joseph and Fritz Koennecke look on.
Stories this photo appears in:

Cazenovia Village Police Department Sgt. Karen Zaleski and Officer Chad Chapman both received letters of citation last Monday, Nov. 4, at the regular monthly meeting of the village board of trustees for actions they took during this past year that showed outstanding professional performance as they carried out their duties.