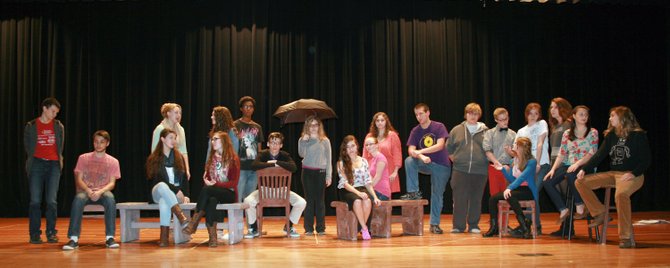 The Liverpool High School Casting Hall will present The Laramie Project at 7 p.m. Thursday, Nov. 14, and Friday, Nov. 15, in the LHS Auditorium. Pictured, in the first row from left, are LHS Annex freshman Julie Coggiola, senior Zach Berube and senior Samantha Spadafore. In the back row, from left, are sophomore Isaiah Louis-Jean, senior Keli Wolf, senior Christopher Metallo and sophomore Destin Furcinito.
Stories this photo appears in:

Liverpool High School's Casting Hall will stage "The Laramie Project" at 7 p.m. Thursday, November 14, and Friday, November 15, at 7 p.m. in the LHS Auditorium. General admission tickets cost $8 and will be available at the door. Some people may find the subject matter and some of the specific language of the play unsuitable for children under the age of 13.