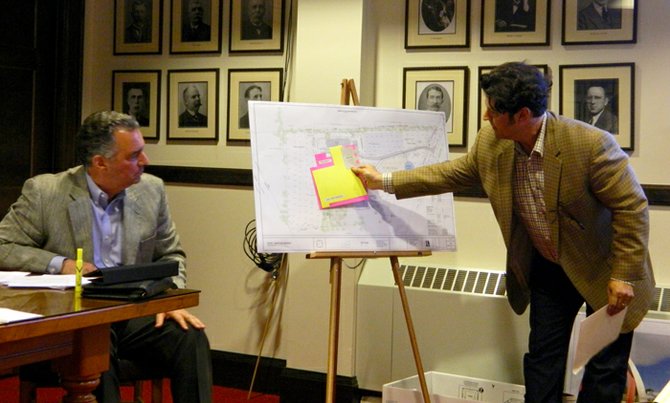 Empire Brewing Company owner David Katleski, right, used a site plan map to show May 6 public hearing attendees a to-scale size comparison of his brewery's 18,000 square feet to the sizes of Cazenovia High School and a typical Wal-Mart. Project opponents said all three were roughly of equal footprint. Katleski used a bright yellow piece of paper, cut to the shape and map-scale size of the 120,000 square-foot high school and overlaid it on the brewery site. He then did the same with a bright pink piece of paper, cut to the shape and map-scale size of a typical 185,000 square-foot Wal-Mart. Finally, he held all three map-scale building pieces together on the site. The grey brewery building was dwarfed by the other two. Audience members were audibly impressed and amused by the comparisons.
Stories this photo appears in:

Noise, odor, visual, archeology and traffic impacts all determined minimal
The Cazenovia Village Board Monday night heard the results of five professional studies that determined the proposed Empire Brewing Company farmstead brewery in Cazenovia will have minimal to zero impact on surrounding noise, odor, visual aesthetics, archaeological and traffic considerations. In addition, Empire owner David Katleski informed the board that he has altered the tentative building specifications to make the brewery smaller, shorter, better screened from neighbors and more visually pleasing — all in response to the numerous neighbor and community concerns voiced in recent weeks. "This is not as functional for us as a brewery, [but] we are willing to do this" to address community concerns, Katleski said of the architectural modifications during a village board public hearing on May 6.