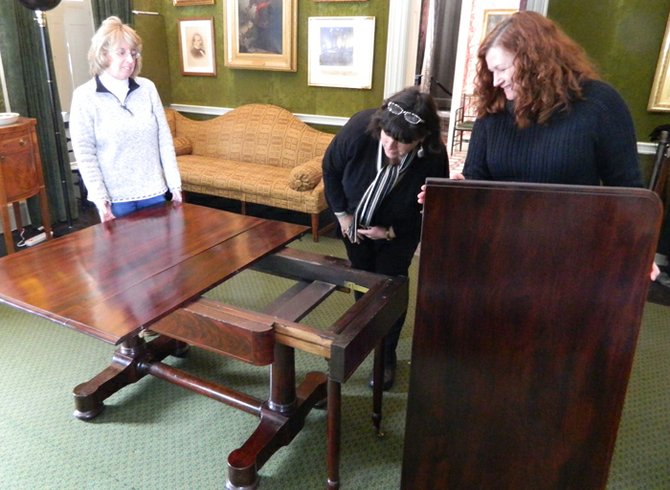 Lorenzo officials Sharon Cooney, interpretive programs assistant and volunteer docent coordinator, left, Barbara Bartlett, director of Lorenzo, center, and Jacqueline Vivirito, curatorial associate, examine the "harvest table" in the mansion's formal dining room and the way it can extend out to accomodate a larger number of people. A recent conservation study revealed that the table had not only drop leaves, but also a swivel top, swivel legs and drop down legs to hold up a table extension.
Stories this photo appears in:

18th century upholstery, signatures and handwriting, bullet holes in furniture add to the Lincklaen family story
At some point during the 19th century, the gun cabinet in the front hallway of Lorenzo was shot with a .30 caliber pistol. The 18th century sofa in the formal dining room not only has remnants of its original upholstery on it, but is a nearly-unique fold-out bed and one of only a handful in the entire country to still exist in such good condition. And numerous pieces of Lorenzo's furniture are inscribed not only with Lincklaen family names and initials, but also of the local Cazenovia furniture makers who crafted the pieces. These are just a few of the curatorial discoveries found by state history conservators and shared last week with the docents of Lorenzo State Historic Site as they returned to the site to prepare for the upcoming 2013 tourist season.