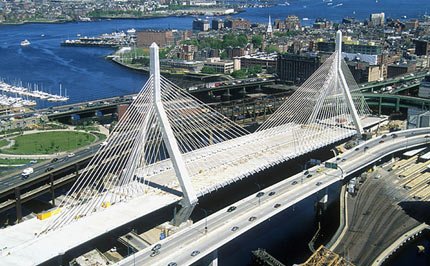 The Bunker Hill Bridge in Boston. Onondaga County Legislator Kathy Rapp is suggesting that the I-81 reconstruction create a similar iconic bridge through Syracuse.
Stories this photo appears in:

According to local traffic experts, I-81 is nearing the end of its useful life. The highway was originally constructed in the 1950s and 1960s to provide an alternative to I-95 for traffic from Canada to Pennsylvania through New York state, as well as to provide a route for local traffic in and out of the city of Syracuse. Now, the roadway, particularly the elevation portion running through the city, is deteriorating, and within the next decade, significant action needs to be taken to repair or replace it. Onondaga County Legislator Kathy Rapp, who represents the fifth district, spoke to the Salina Town Board Monday, March 25, about the various options to reconstruct the I-81 bridge. In addition to representing a portion of the town of Salina, Rapp is policy chair of the Syracuse Metropolitan Transportation Council (SMTC), which has been researching the project for several years.