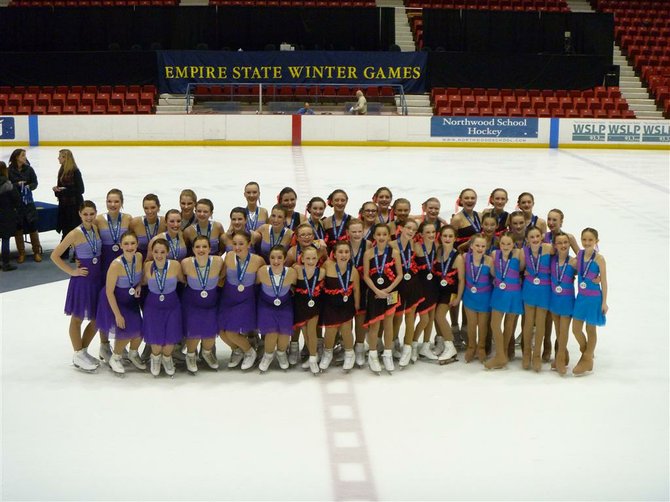 Pictured are the "CNY Blizzard" team (Molly Bushnell amd Lydia-Cleaver Bartholomew from Manlius and Megan Ferguson from East Syracuse) with their silver medals, the "CNY Storm" (Kaitlyn Bushnell, Alana and Alex Suroweic from Manlius, Julia and Maria Vazquez from Jamesville-Dewitt) with their gold medals and the "CNY Chill" team (Yimei Lin from Manlius) with their silver medals at the Empire State Games Feb 10.
Stories this photo appears in:
The CNY Synchronized Skating Team completes one of its most successful seasons yet
The Skating Club of Central New York's synchronized skating teams had a very successful 2013 season. There are four teams at the club: two beginner teams "Icicles" & "CNY Chill", a pre-juvenile team "CNY Storm" and an open juvenile team "CNY Blizzard". Skaters' ages range from five to 18 years and live in and around the Syracuse area and practice in Cicero.