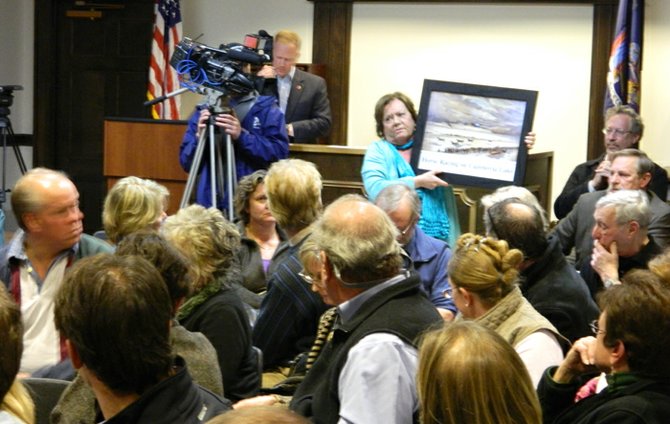 Rippleton Road resident Jody Reynolds, standing, holds up a painting of Lorenzo viewed from the south with a shadow of the brewery's estimated dimensions superimposed in the background as a way to suggest that the size of the brewery will be too large. The March 11 planning board public hearing had more than 50 attendees and was filmed by two television news crews
Stories this photo appears in:

Issues raised, concerns alleviated at planning board hearing
The Cazenovia village meeting room was filled to seating capacity, filmed by two television news cameras and swirling with questions, responses, issues and information during the March 11 planning board public hearing on Empire Brewing Company's requested zone change for its Route 13 property. Empire officials offered updated information and site plan changes at the meeting, while neighbors — and two attorneys — asked more specific questions and offered some objections to the project as currently planned.