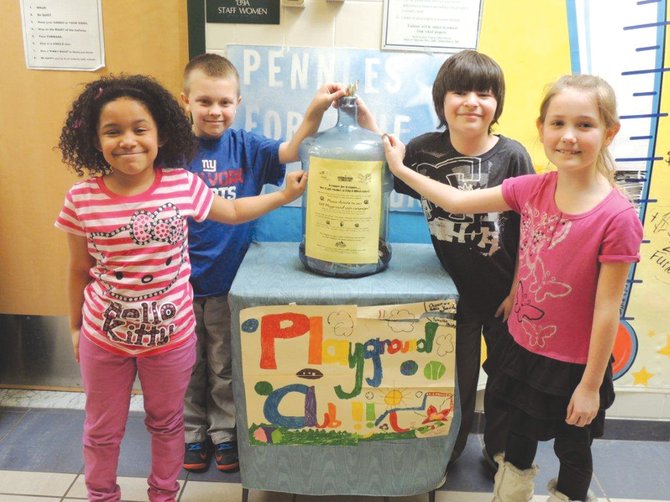 Students in Lisa Courtright's third grade class at Roxboro Road Elementary in Mattydale hold a jar in which the school is collecting change for its playground fundraising campaign. The campaign is called "Pennies for the Playground." From left are Tahjzaya Quinones, Caleb Gelo, Charles French and Annelisa Farley.

Stories this photo appears in:

When it comes to playing, even pennies can make a difference. That's the idea behind the "Pennies for the Playground" campaign at Roxboro Road Elementary in Mattydale, which encourages students and families to donate change to the effort to build a new playground at the school. The campaign is one of several fundraising efforts to help construct a new play structure. According to Lisa Courtright, third grade teacher at RRE, member of the RRE Parent-Teacher Group (PTG) and chairperson of the RRE Playground Committee, an upgraded playground is necessary for the safety of the children. The school was built in 1956, and the playground has had several upgrades since then. RRE underwent significant renovations in the early 2000s. When those were completed, the school was an entire wing larger, and the North Syracuse Central School District redistricted, giving RRE more than 200 more students.