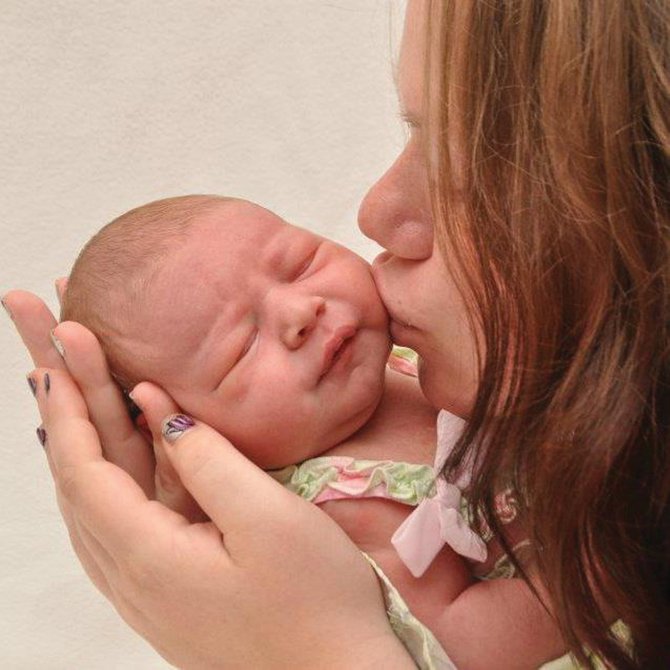 Liberty Tanner kisses her newborn daughter, Olivia Grace Horning. Tanner was killed in a chain-reaction car accident in Hastings in January.
Stories this photo appears in:

Liberty Tanner was getting her life on track when it ended tragically in January. "She was a great person," said Amy D'Uva, with whom Tanner had lived. D'Uva's son, Ed Horning, was Tanner's fiancé; the two had been together for five years. "She had a lot of dreams, a lot of things she wanted to do. Things were just getting started for her. It was so exciting to watch her. Things were starting to click for her." Tanner, 19, was on her way home from the Continental School of Beauty in Mattydale when her 1996 Dodge Neon broke down in the center lane of I-81 northbound north of Hastings (on the Brewerton Bridge between exits 31 and 32) around 10:15 p.m. Jan. 16. The car had stalled and its lights had gone out. Tanner was on the phone with Onondaga County 911 reporting the matter, when her vehicle was struck in the rear by a 2002 Buick Century operated by 17-year-old, Alex B. Mills of Altmar. A 1998 Plymouth Breeze, operated by 17-year-old Michael R. Edinger of Parish, slowed as it approached the accident scene and was rear ended by a 2007 Chevy Cobalt driven by 20-year-old Emily Smith of Pulaski. A 2006 Nissan driven by 28-year-old Stefanie Wooding of Fulton entered the accident scene and collided with the rear of the Chevy Cobalt.