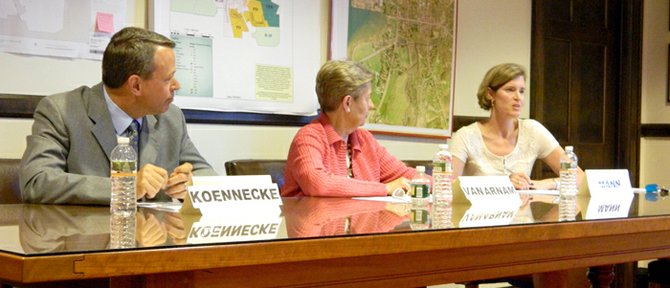 Cazenovia village trustee candidates for the June 18 election, from left, Fritz Koennecke, Peggy Van Arnam and Amy Mann participated in a candidate forum sponsored by the League of Women Voters on June 12.
Stories this photo appears in:
The three candidates for trustee for the June 18 village election explained to voters who they were, where they stood on the issues and why people should vote for them at the June 11 candidate forum held by the League of Women Voters. Incumbents Amy Weber Mann and Peggy Van Arnam, both seeking reelection, and challenger Fritz Koennecke, Jr., current president of the Cazenovia Board of Education, spent 70 minutes before a crowd of about 30 people answering questions on topics such as what Caz will look like in 10 years and how the village should get there, what should happen to the Riverside Drive property, how can the village have a better relationship with Cazenovia College, should the new Lincklaen Street parking lot be paid or free and whether or not the village should consolidate with the town.