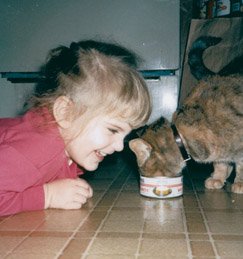 In a photo her father says is "pure Paige," a young Paige Yeomans Arnold sits with her cat. Paige lost her battle with leukemia in 1994 at the age of 8; Paige's Butterfly Run was started to raise money for pediatric cancer research in her memory.
Stories this photo appears in:

Chris Arnold and Ellen Yeomans thought a bone marrow transplant would cure their daughter's leukemia. Paige Yeomans Arnold was diagnosed with chronic myelogenous leukemia (CML) in June of 1993. The cancer is typically found in adults, not children, who are more likely to get acute myelogenous lymphoma (AML) or acute lymphocytic lymphoma (ALL). At first, she was treated with an experimental drug called Interferon, which put her into a brief remission. But a few months later, the cancer returned, leaving the family with just one choice: a bone marrow transplant.