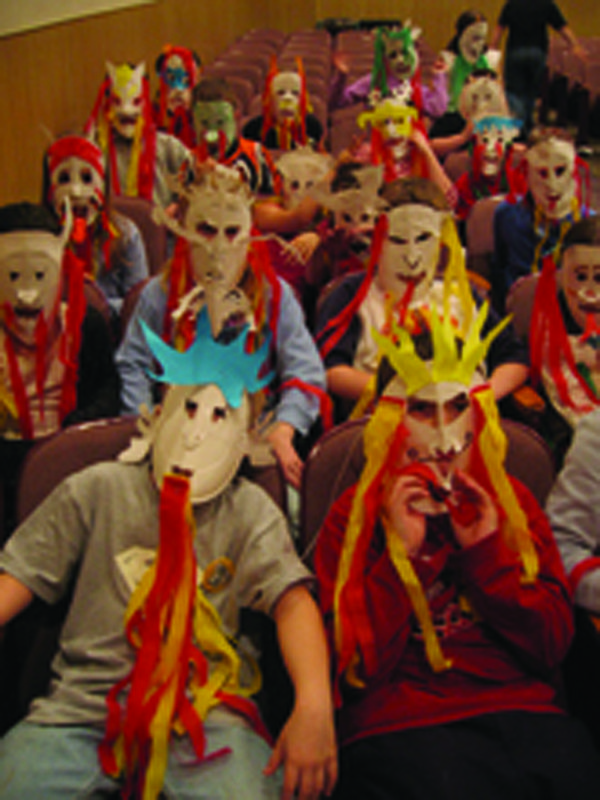 The Bromkas' students get ready to perform as dragons with their dragon masks.
Stories this photo appears in:

For more than five years, Luba Lesser has been searching for a concrete location to make her dream of a community center for visual and performing arts a reality. She'd been giving piano and voice lessons out of her home in DeWitt for years and realized she was running out of space. So she turned to her church, St. David's Episcopal Church, for accommodation. And when she met Sondra Bromka, who also attends St. David's, it was a match made in heaven. "I had been thinking about doing a summer camp for a while," said Lesser. "I wanted to write a program to teach the arts so the kids could make art and be involved in music and make instruments and dance. I just didn't know how to put a program like that together. And then I found Sondra and came to her with the idea. What I didn't know was that she'd been doing a similar – but better - program to what I'd envisioned for the last 30 years." Sondra Bromka and her husband John have been traveling from their home in Marcellus to schools across the world to teach children about history and culture through performing arts for more than 30 years through the "Bells and Motley" program. They've performed at the Renaissance Festival since it began, done programs at national historic sites and held workshops everywhere from libraries to museums to historical societies. During the fall, winter and spring, the Bromkas' schedule is packed with school visits. Usually, they'll be booked to visit a classroom for a week, coming in each day to teach about the music, art, dance, literature, pageantry of a curriculum-based theme. These include the Middle Ages, Renaissance, Early America and world cultures such as China. And during the summer months, they would choose a destination, usually in Europe, to teach for a month. But Bromka said that in this point in her life, she's ready to let traveling fall to the wayside and focus on the Central New York community. "Though one can be smitten by the love of travel, it feels like our responsibility is to bring it home and do everything we can for the local community," she said. "That's the goal – I really want to spend the next phase of my life enriching the Central New York arts community." And she's starting with Enlighten-CNY. The camp is divided into four weeks and two different topics – Chinese folklore and Medieval pageants and festivals. The first two weeks, will be dedicated to one topic and the next two weeks will focus on the other. Bromka said the main reason Enlighten arts camp is different than your average summer camp has to do with the flexibility of the curriculum and activities. "It's not that I am adverse to guidelines, but here we've got a formula that will flex to create the ideal," Bromka said. "It means that we can pour our hearts into the needs of the children and shape our program around them." "You build a little community, get to know each other and learn to work with each other," Lesser added. "We don't know who is going to show up, what skills they'll have and what special needs they may have." Both Bromka and Lesser stressed that even though this is a camp for the arts, all children are welcome, no matter how much experience they have when it comes to music, art and dance. "I want parents not to be afraid if their children have done this before," Bromka said. "Some kids don't get a chance to be exposed to different art fields. Some kids may have been channeled into one art field and have not experienced another. The most important thing is that you don't have to have done it to come here – it's a good place to start." Bromka's program is designed to make history come alive through a combination of hands-on activities related to the arts. For example, since the topic during the first two weeks will be on "Bawshou and the Dragon," an old Chinese tale, children will be learning all about dragons. Activities for the weeks include creating dragon masks, making Chinese lanterns, learning Chinese calligraphy, choreographing dances for the final performance and playing traditional Medeival instruments – some of which aren't made anymore. Bromka and her husband create instruments that they know existed, but are not produced anymore. She said they got inspiration to create many of their instruments from looking at paintings on the ceilings of churches while in Europe. "It's different from a traditional theater camp because usually you're not told at all about the culture behind what you're performing," Lesser said. "You're told the story, what to say and what to do. Here, you're making the story your own with the group." The summer camp will serve as the official beginning of the Enlighten-CNY Center for the Arts. This fall, Lesser and the rest of the staff will begin teaching music and art lessons at the center for anyone interested in learning. The Bromkas are excited to continue teaching at the center as well. "For me, this kind of education is very important because it's the kind of education I got," Lesser said. "I think history, culture and everything connected within the arts makes a lot more sense when taught together. I started the Center for the Arts and we're a group of musicians that want to teach and who have the same ideas of what to teach children." "I love the range in each individual child and the unique art that can come out because every student is different," added Bromka. "40 years and you haven't seen it all!" The Enlighten-CNY summer camp will run for four weeks in July. For more information, visit enlightencny.com.