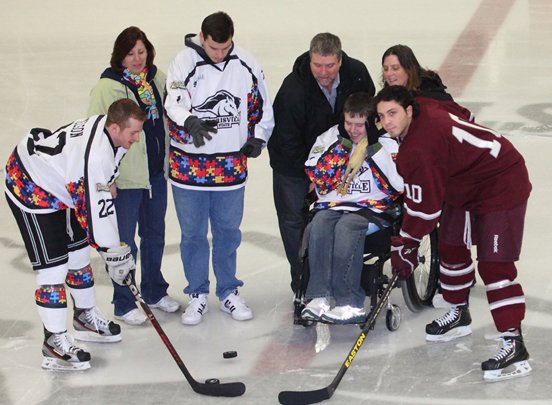 Morrisville Mustangs captain Jamie Nelson (22), left, is joined by Potsdam captain Matt Viola for the ceremonial puck drop. Also joining in the for puck drop were Jeremy Kelley (standing in jersey) and Nelson's cousin Jordan Sykes (in wheelchair), who are both autistic, along with their parents.

Stories this photo appears in:

The ending couldn't have played out any more perfectly than it did Saturday night, Jan. 19, when Morrisville State College men's ice hockey took SUNY Potsdam into overtime and posted a dramatic 5-4 State University of New York Athletic Conference victory. But what meant more than just the win on the ice was the game that was being played to raise awareness for autism, and ultimately gathered nearly $4,000 through ticket sales, raffles and other events.