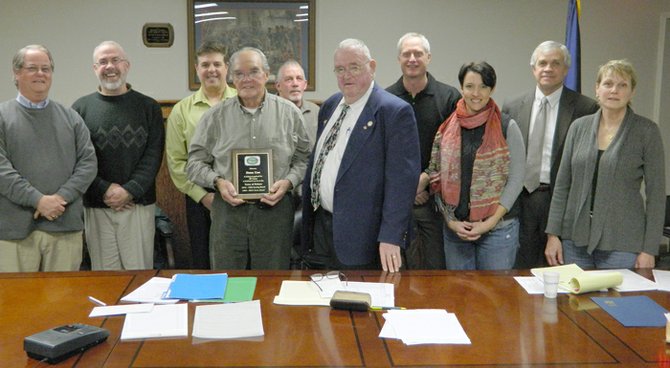 Nelson town officials, past and present, posed with retiring town councilor Dean Coe during his final board meeting last week. Pictured form left: Town Supervisor Roger Bradstreet, Town Zoning Board of Appeals Chair John Tobin, Councilor John LaGorga, Coe, Councilor Mike Costello, Assemblyman Bill Magee, Town Planning Board Chair John Dunkle, Councilor-elect Jen Marti, Town Attorney Jim Stokes and Town Clerk Deb Costello.
Stories this photo appears in:

Councilor retires after 40 years of town service
Nelson Town Board member Dean Coe has served his town for the past 40 years — and at the board's Dec. 12 meeting, Coe's last before his retirement, the board, past town supervisors, and Coe's family and friends, all showed up to wish him a fond farewell.