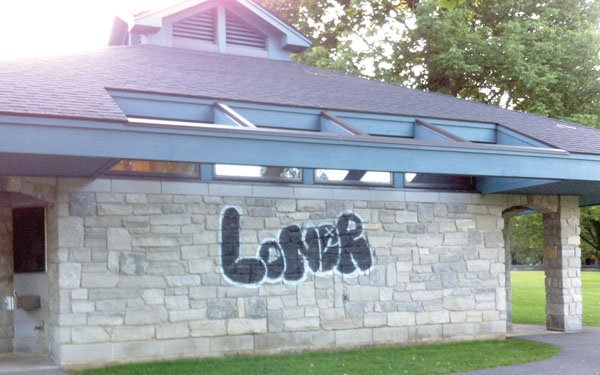 The four-foot long word "LOner" was spray painted on the Lakeland Park Bathhouse sometime between late night Sunday, Aug. 5, and early morning Monday, Aug. 5.
Stories this photo appears in:

Police have fingerprints, evidence and say "Loner" soon will be apprehended
The rash of spray-painted graffiti that has been spreading throughout Cazenovia has taken a turn from misdemeanor annoyances to felony criminal mischief after graffiti clean-up on the Lakeland Park Bathhouse was determined to cost taxpayers thousands of dollars. The spray-painting of the four-foot-long word "Loner" on the bathhouse last week was the latest in a string of graffiti incidents that have occurred on sidewalks, mailboxes and sign poles from Lakeland Park up Albany Street all the way to the Tops plaza.