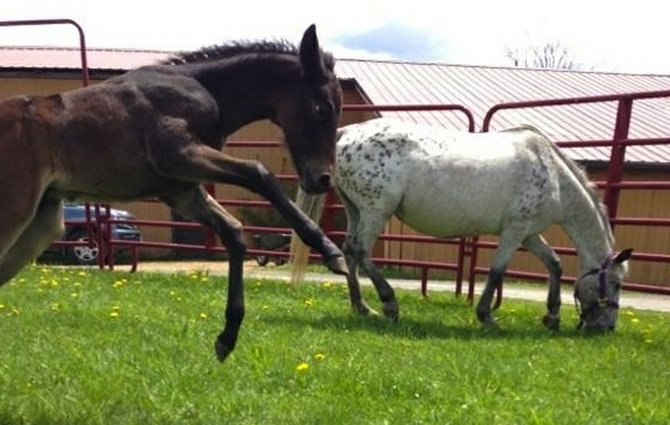 CHANCE TAKES FLIGHT! Chance, at left, the first foal born at Skanda Equine, the progeny of wild ponies rescued from the ONondaga Reservation, frolics around in the sunshine.
Stories this photo appears in:

In late February of this year, Marion Secor and Tom D'Aquanni, of Skanda Equine in Cazenovia, received a call from an SPCA volunteer asking if they would consider bringing to Skanda a herd 15 wild ponies recently rescued from the Onondaga reservation. The ponies had struggled through the winter without food and access to water and were in critical condition. Neither Secor nor D'Aquanni hesitated to say yes. In the past five months, they have emerged into health and vitality and "are doing beautifully," and Skanda has recently opened the adoption process up to the public and invites anyone who is interested to contact her for more information.