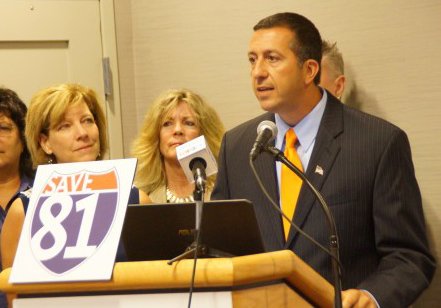 Salina Supervisor Mark Nicotra speaks at a press conference launching a campaign called Savei81.org, which brings together a number of elected officials, business leaders and union officials to call for the state DOT to maintain I-81 as an elevated highway. Behind him are Onondaga County Legislators Kathy Rapp, left, who represents the fifth district (parts of the towns of Salina and DeWitt) and Judy Tassone, who represents the fourth district (parts of the towns of Salina and Geddes).
Stories this photo appears in:

A large group of politicians, citizens and businessmen and –women have launched an initiative to encourage the state to keep a 1.4-mile stretch of Interstate 81 as it is instead of turning it into an arterial boulevard. Savei81.org revealed itself at a press conference on Thursday, Aug. 1, in downtown Syracuse, where supporters spoke out against the New York State Department of Transportation's proposal to turn I-81's viaduct stretch, the elevated portion of the highway that runs through the central business district, into an arterial boulevard through the city with stoplights and cross streets, something the group said would irreparably damage the city's economy by creating a backlog of traffic. The group also issued a press release after the conference outlining its goals.