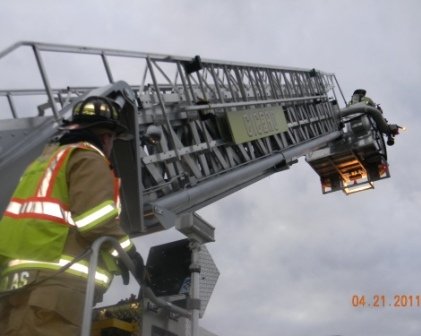 This weekend, fire departments across Onondaga County will hold open houses as part of RecruitNY, a statewide effort to recruit more volunteer firefighters.
Stories this photo appears in:

All across the country, men and women volunteer to help others on their worst days. In Onondaga County in particular, most of the fire departments and EMS services are staffed entirely by volunteers. In order to keep those agencies staffed, fire departments across the state will hold open houses this weekend to encourage residents to volunteer for the fire service. The state-wide recruitment drive, Recruit NY, will be held April 27 and 28 at the tail end of National Firefighter Week. Nearly all departments will open their doors to anyone interested in learning more about how the departments operate or how to apply to be a member. The program aims to bring fresh faces to the departments and to showcase what local departments are doing. The events will include opportunities to speak to firefighters, try on turnout gear and breathing apparatus, obstacle courses and more.