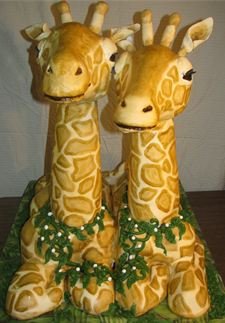 A giraffe cake is just one of the 3D cakes Felser has made for her clients so far.
Stories this photo appears in:
From cruise ships to giraffes to the Carrier Dome, Syracuse Cake Art can make almost anything into a cake. Kathy Felser began experimenting with baking 3D and wedding cakes in her own home five years ago. She says that even though she struggled at the beginning and had cakes falling apart left and right, she knew right away that baking and decorating cakes is what she's meant to do.