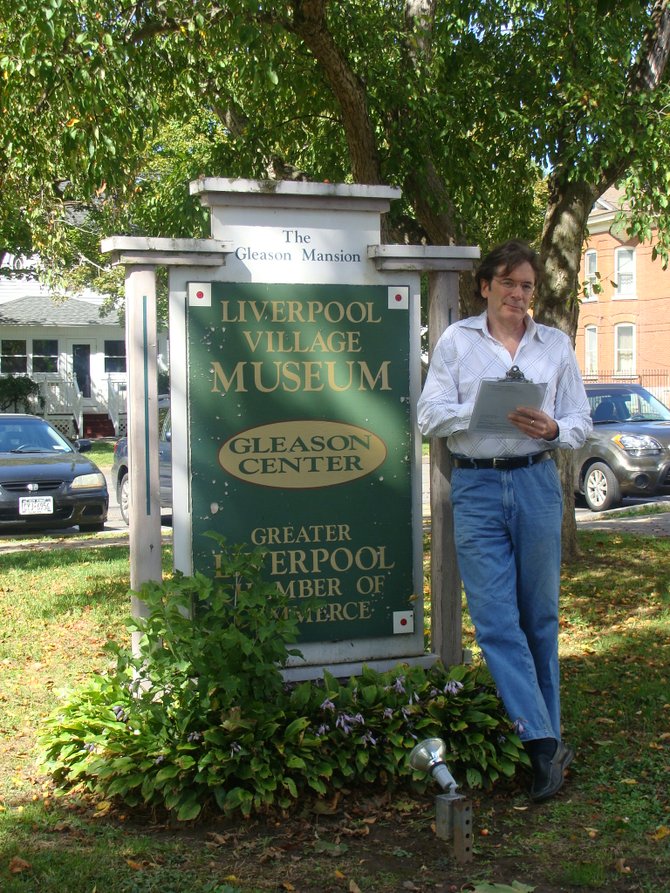 Onondaga Historical Association Educational Coordinator Scott Peal looks over his notes on the scripts for performers in this month's Ghostwalk, taking place in the Village of Liverpool. Peal stands beside the sign marking the Gleason Mansion, located on the corner of Sycamore and Second Streets. The former home of Lucius Gleason now houses the Village Museum, Chamber of Commerce, and offices, and is situated between the Liverpool Village Hall - Police Department on one side and the Willow Museum on the other. The mansion is one of several stops along the Ghostwalk.
Stories this photo appears in:
You can meet the most interesting folks here in Liverpool, and they don't even have to be alive. The Onondaga Historical Association is preparing its 13th annual Ghostwalk, and the spirits will be summoned right here in the village of Liverpool. The walks will take place on Friday, Sept. 28, Saturday, Sept.29, Friday, Oct. 5 and Saturday, Oct. 6. While the evening tours are scheduled for 6 p.m., on Saturday, Oct. 6, an afternoon tour commences at 2 p.m.