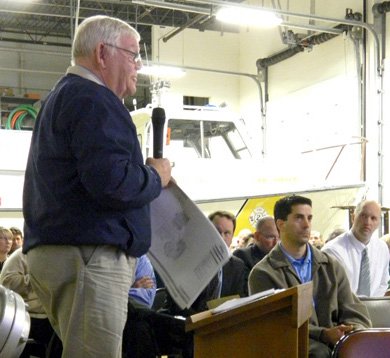 Don Rhuda, of Musco Lighting Company, explains the proposed 70-foot field lighting for the Victory Sports Medicine athletic complex at the Oct. 16 Zoning Board of Appeals public hearing. VSM owner Dr. Marc P. Pietropaoli, seated behind podium, listens.
Stories this photo appears in:

Close to 100 unhappy residents crowded into the truck bay of the Skaneateles Fire Hall last week for a Zoning Board of Appeals public hearing on a light variance request from Victory Sports Medicine Enterprises for its planned 99-acre sports complex off Route 20. The variance would allow the complex to have 17 poles with 70-to-90 foot athletic field lights.