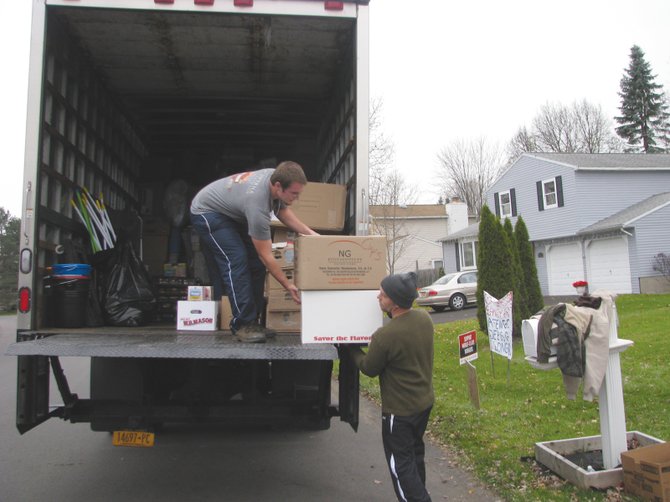 Roger Haskins III takes packages of donations from Mike Di Giglio outside Di Giglio's Liverpool home. The donations are being loaded onto a truck bound for Rockaway, N.Y., one of the areas hardest hit by Hurricane Sandy.
Stories this photo appears in:

It started small. Mike Di Giglio, a Rockaway native, wanted to bring some supplies down to his family, who had lost one house and seen damage to another after Hurricane Sandy, so he posted something to his Facebook page reaching out for donations and looking to fill up his Jeep. By the next day, the living room and dining room of his Liverpool home were so full of donations that he and his wife, Melanie, couldn't walk through the rooms. Di Giglio, realizing he was onto something, reached out to his friends and Verizon co-workers, Brian Borchik, Don Locke and Jim Dunn. Together, they created a page called Operation Sandy Relief on Monday, Nov. 5, with the goal of collecting more goods to take down later in the week. By Friday, Nov. 9, when volunteers loaded up a rented truck (offered at a discount from Ryder) and left for Rockaway, the Di Giglios' house was again so full they couldn't clear a path. The Operation Sandy Relief page has almost 400 likes, and more trips to the New York area are planned for the future.