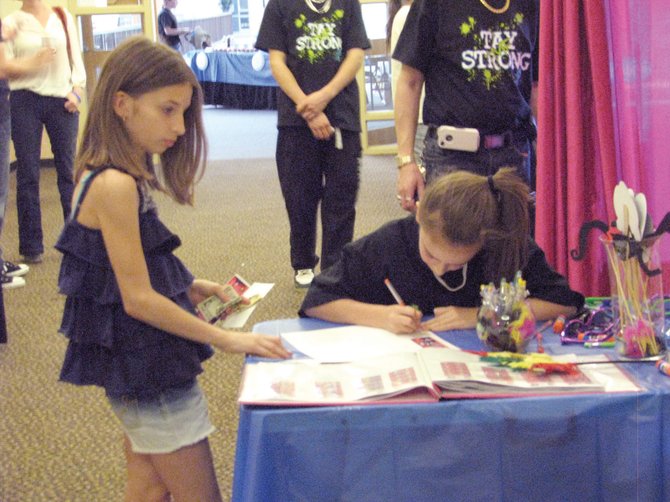 Taylor Howard, left, and Gia Vassallo, both 10, leave a message for the Fleming family in a book of photos at the TayStrong benefit held at Drivers Village Sunday, March 18. The benefit raised money for the family of Taylor Fleming, who died of injuries sustained in a car accident in December.
Stories this photo appears in:

On Sunday, March 18, at Drivers Village in Cicero, Taylor Fleming was everywhere. She smiled down from photos on the walls. Her laugh echoed from old videos playing on a television in the corner. Stories of her passed from table to table. It was almost like she was really there. That was the goal of TayStrong, the benefit and celebration organized by Taylor's uncle, David Guido, to raise money for Taylor's family. Taylor was on her way home from volunteering at the Smith Road Elementary School Christmas tree lighting and concert in Cicero on Thursday, Dec. 8, 2011 when her 2003 Dodge Neon was struck broadside by a 2000 Lincoln Continental driven by 45-year-old Timothy Williams of Phoenix. Williams was later charged with driving while intoxicated. Fleming was removed from life support three days later so that her organs could be donated. In order to help her parents pay her medical bills and other expenses, Guido and other family members organized the benefit, which was also intended to be a celebration of Taylor's all-too-brief yet inspiring life.