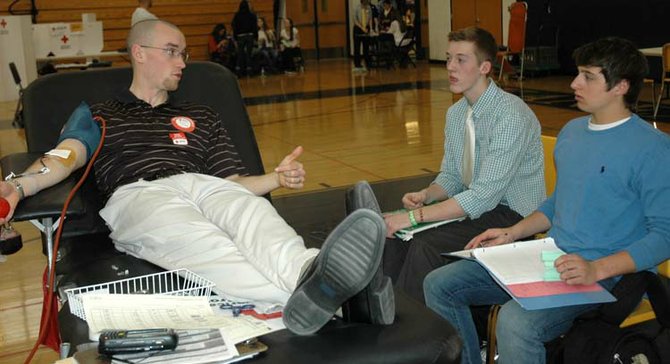 Teacher Brian Sevey taught calculus to students Zach Ross and Nate Scuderi while he gave blood. (He was sitting up because he was giving double red cells). "They normally come down to see me fifth period, and when I told them I would be giving blood, they said 'we'll come down there'," Sevey explained. Red Cross nurse Eleanor Luera said she has never seen a teacher teaching while giving blood, "but I'm ok with it," she quipped. "It keeps his mind off it."
Stories this photo appears in:

Students and staff at Skaneateles High School donated 74 pints of blood Thursday, March 1, at the American Red Cross Blood drive held in the gym. Students were excited to learn they had helped 222 people — maybe even saved 222 lives — by rolling up their sleeves and giving the gift of life.