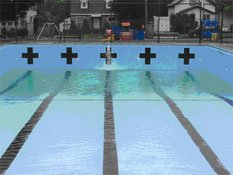 Some Salina residents are upset that the town pools are closing two hours earlier each day than they have in the past. The decision was made in November as part of the town's budget talks; the move saved the town $27,000 in the 2012 budget.
Stories this photo appears in:
When the town of Salina pools opened for the season on Friday, June 22, Christine Wood's kids planned to do the same thing they do every summer: swim as much as they could in their neighborhood pool at Electronics Park. "My son wanted to go back for the evening, so my husband drove him back, and it was all closed up. I tried looking up the hours, and I couldn't find them," Wood said. "There's a big permanent sign on the wall with the hours posted, saying the pool is open until 8 p.m., but it had closed at 5:45." So Wood posted a question on the town's Facebook page, asking if the hours had permanently changed. They have.