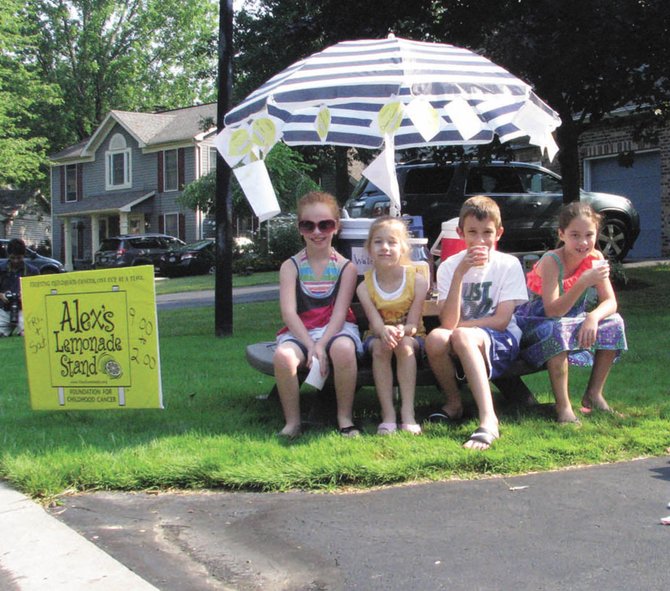 Three Cicero youths held a fundraiser for Alex's Lemonade Stand, a pediatric cancer charity, Friday and Saturday, raising more than $1,200. From left are Madison King, 8, Nadia Greco, 6, and Owen Greco, 8. Also pictured is Irina Schuldt, 9, also of Cicero.
Stories this photo appears in:

On any given street corner all summer long, you're likely to find a gaggle of kids hawking lemonade and cookies. But some of those would-be salesmen and –women are selling for a good cause. This Friday, June 28, and Saturday, June 29, Madison King, 9, Owen Greco, 9, and Nadia Greco, 7, will set up a lemonade stand at 8434 Rollercoaster Drive, Cicero, and donate the proceeds to Alex's Lemonade Stand, a charity that funds pediatric cancer research.

The lemonade stand is a hallmark of childhood: that first symbol of entrepreneurial spirit, countless stands spring up on neighborhood corners in the summer, with signs in messy scrawl proclaiming the price of homemade goodies generally sold so that their makers can invest in a new bike or video game. But this weekend in Cicero, the lemonade and cookies sold by 8-year-old Madison King, 6-year-old Nadia Greco and 8-year-old Owen Greco won't fund a new toy. Instead, all of the proceeds — a total of $1,257.08 with a $100 match from Carrier Corp. — will benefit Alex's Lemonade Stand Foundation, a charity dedicated to pediatric cancer research.