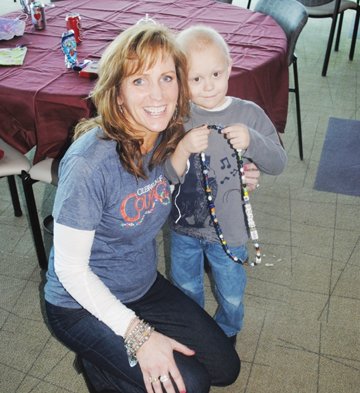 Connor Licamele displays his Beads of Courage, which he received from Susan Bertrand through Maureen's Hope Foundation. The not-for-profit organization is one of 15 charities that will benefit from the Syraucse Auto Dealers Association Charity Preview held Feb. 15 at the OnCenter. For tickets, call Bertrand at 243-6918.

Stories this photo appears in:

Last year at this time, Tracy Licamele's life was turned upside down. Her son, Connor, was diagnosed with Wilms's Tumor at 4 years old, and was hospitalized for 11 days after having a tumor and his left kidney removed. He immediately began chemotherapy. While this was a devastating time for Licamele and her family, she was able to find comfort thanks to Maureen's Hope Foundation, a Baldwinsville based organization that offers support and assistance to people facing the challenges of a cancer diagnosis and other life altering disease.