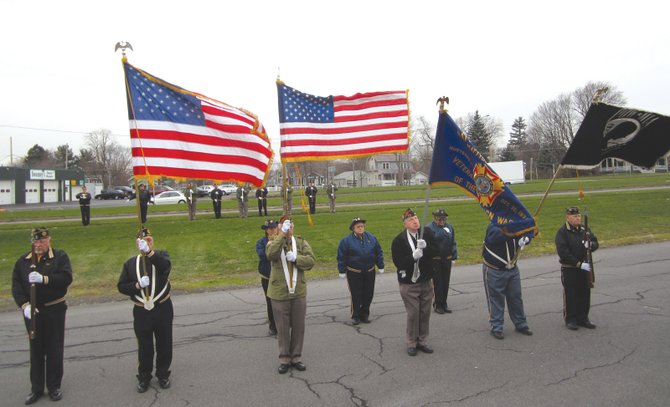 Members of the Mattydale American Legion and VFW posts pay tribute to those lost at Pearl Harbor on Dec. 7. Twenty-four hundred and two Americans died in the Japanese surprise attack in 1941.
Stories this photo appears in:

Just over 20 people met on a cold Friday morning outside American Legion Post 1832 in Mattydale to commemorate what happened in Pearl Harbor in 1941 on Dec. 7. A lone car horn on Route 11 sounded in tribute to the ceremony happening by the side of the road in front of the Stars and Stripes. More than 2,400 Americans died during the attack by the Japanese in Hawaii that Sunday morning just over seven decades ago. Though no World War II veterans were on hand to remember, members of the Mattydale American Legion and VFW paid respect to the sacrifice made by those who were there in Pearl Harbor.