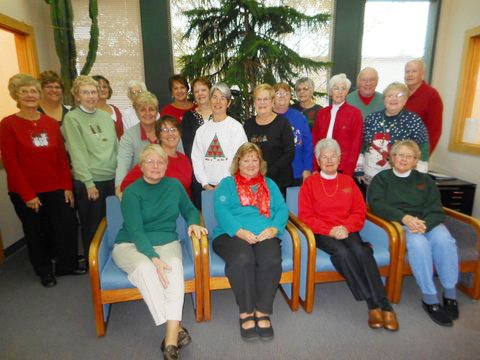 The 2012 Christmas Bureau Committee includes members (from left) Phyllis Straub, Nancy Conley, Nancy Porter, Carol Lewis, Rita Boivin, Bonny McCabe, Carol Ledwith, Barb Presley, Elaine Gagas, Jo Pelcher, Lauri Bernstein, Barb Seiffert, Jeanne Pray, Liz Bates, Janet Therrien, Linda Fernandez, Annette Mott, Sue McKee, Bob Johnson, Bonnie Kisselstein and Al Winegard. Missing are Joy Pople, Sandy Vaughn, Jean Baumann, Marion Higman, Sandy Baker and Bobbi Gowan.
Stories this photo appears in:

Christmas is right around the corner and nearly 165 families have registered for holiday assistance from the Baldwinsville Christmas Bureau. That means our Christmas Bureau committee and volunteers are already hard at work.