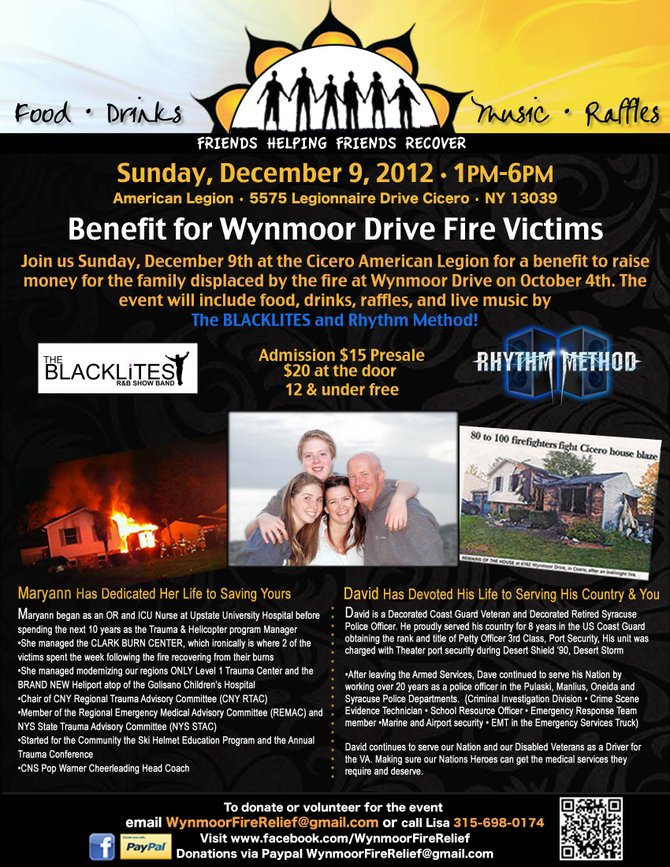 From 1 to 6 p.m. Sunday, Dec. 9, at the Cicero American Legion, there will be a benefit for the Fields-Henessey family, whose home on Wynmoor Drive was destroyed by a fire on Oct. 4.
Stories this photo appears in:

During the holidays, there's no place like home. But for the Fields-Hennessey family of Wynmoor Drive in Cicero, home is but a memory; theirs was destroyed in a devastating fire. The blaze broke out shortly after the family had gone to bed the night of Oct. 4. They were alerted to the conflagration by neighbors, who happened to see the flames through their back door, and banged on the Hennesseys' door to wake them and get them out of the house. Maryann Fields and her daughter Marisa Falgiatano escaped without injury, but Fields' husband David Hennessey suffered burns to his hands, and his son Connor suffered severe cuts to his hands and arms when he had to break through his bedroom window to escape. A family friend was also injured in the fire.